Both practical and affordable, scatter tubes are an ideal choice for scattering ashes in a dignified ceremony. Below we outline exactly what scatter tubes are, what you need to consider when buying them and highlight some of the best options to buy.
Scatter tubes are a great alternative to urns when transporting cremation ashes.
They are much cheaper than urns and come in a wide range of different designs. They are usually made of paper card and are often sold as 'biodegradable urns' as they can be buried and dissolve to become one with the earth.
Scattering tubes can also be used to scatter ashes/cremated remains on land or water.
The tubes are designed to simplify the scattering process and feature a perforated tab which can be pushed in prior to scattering.
As well as for transporting ashes to scatter, tubes are also the best option if you are planning to travel abroad by plane with the ashes.
Scatter tubes can be easily carried on board as part of your hand luggage and are often preferred by airlines as they can be scanned much easier than traditional urns.
For a selection of recommended scatter tubes available to buy, see our full list below...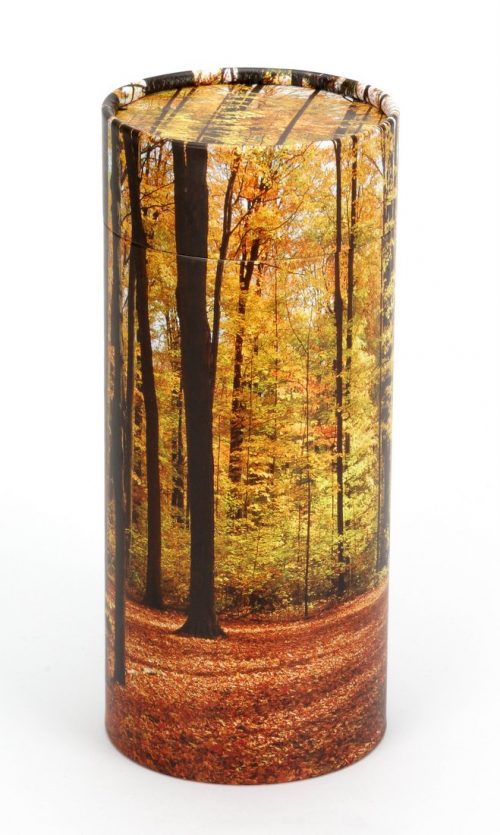 Scattering ashes tube - Lilies Peace design
This beautiful scatter tube decorated with lilies is available in two sizes: 50cl and 240cl.
It can be used to transport ashes to a scattering site, and also as a biodegradable urn.
The scatter tubes are designed to simplify the process of scattering ashes on land or water, featuring a perforated tab that can be pushed in to scatter the contents.
As well as scattering the ashes, the tube can be floated on water or buried - where it will degrade and become one with the earth.
Although these tubes are generally considered suitable for airline travel, you should check with your airline before your trip to make sure.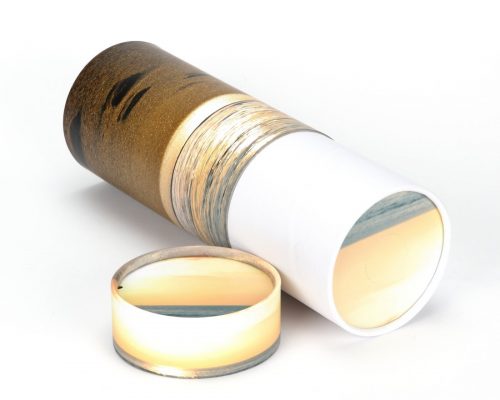 Scattering ashes tube - Footprints in Sand design
This biodegradable scatter tube comes in a beautiful and peaceful 'footprints in the sand' design.
This scatter tube has a diameter of 12.8cm and a height of 37cm - giving it a capacity of 240 cubic inches (3.9 litres) – which is suitable for an adult of up to bodyweight 105kg.
Scattering ashes tube - Autumnal Wood design
A large scatter tube with a capacity of 240 cubic inches - suitable for the ashes of an adult of around 110kg (16 stone).
Features a stunning 'Autumnal Wood' design, the tube can be used to store ashes while travelling as well as a scattering device - with a perforated tab for ease of use.
Biodegradable tube can also be buried to become one with the earth, or set in water to float peacefully away.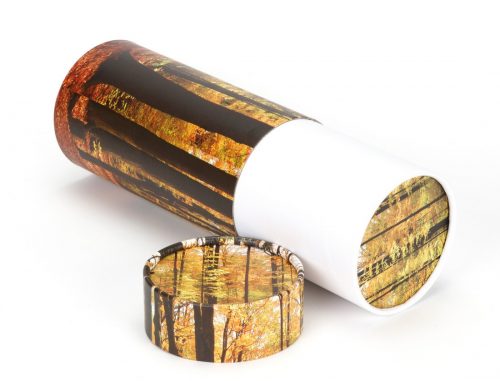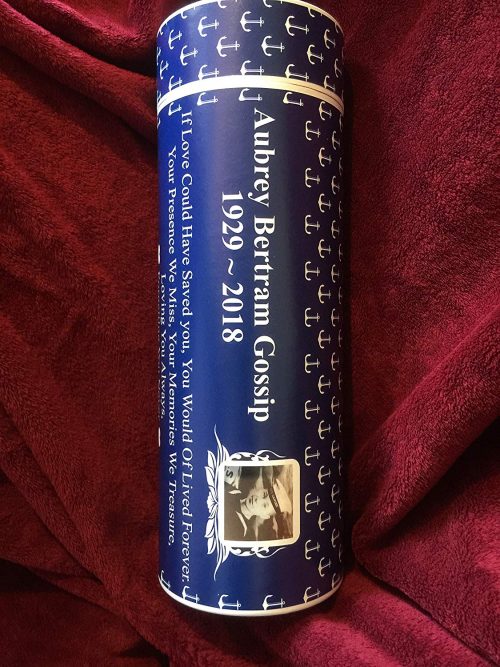 Personalised scatter tube for ashes
For a more personal touch, you can fully customise a scatter tube to remember a loved one.
Feature your loved one's name, photograph, date of birth and date of death in memoriam on the outside of the scatter tube.
Personalised scatter tubes are dispatched within 2-5 days from ordering, so there isn't a huge delay.
There is space for 900 characters so ample room for a special message, poem, song/hymn lyric etc. to be included in the design.
Scattering ashes tube - Poppy Field at Sunset design
An eco-friendly biodegradable scatter tube that is dignified and easy to use.
The tube is specially designed to scatter cremated ashes on land or water. As it contains no metal or plastic it is completely biodegradable, so is also suitable for the dignified burial of ashes on land or to float at sea.
Features a beautiful poppy field at sunset design.