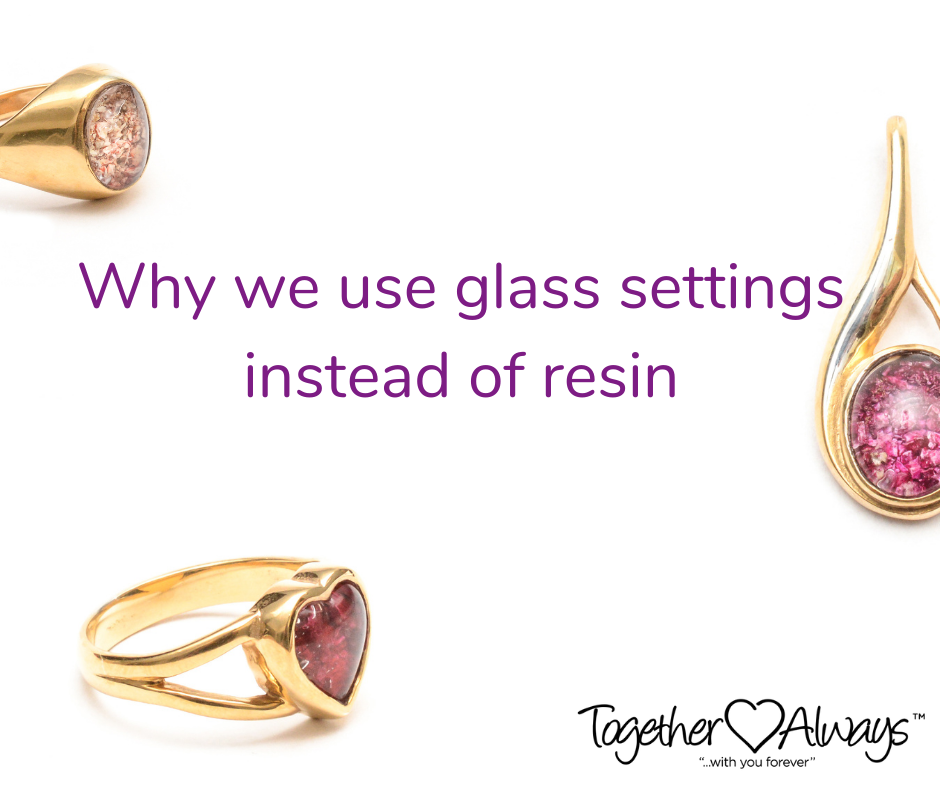 All of the ashes jewellery items we make here at Together Always feature a glass setting to clearly display the ashes at all times.
We see a lot of other companies using resin for the setting, and we are often asked by customers why we use glass instead – so we have put together this quick guide to explain why we think ashes jewellery with a glass setting is so much better than with resin.
If you have any questions about our jewellery we would be happy to answer your questions, just get in touch using our contact form or over on our Facebook page.
Why glass settings are better than resin
We prefer to use a glass setting for three simple reasons: better quality, finish and affordability.
Working with glass requires a high-level of skill and special equipment, which allows us to encapsulate your loved one's ashes in a strong, safe setting. As a high skill set is required, more time and attention is spent on your jewellery – resulting in a better standard and quality of finished product.
Another benefit of using glass settings is that it gives the jewellery that bit more weight, making them feel a lot more substantial. With resin settings, jewellery can often feel too light and flimsy.
Using glass rather than resin to hold the ashes within the setting gives the jewellery a much brighter, smoother and clearer finish. Jewellery that uses resin can be scratched much more easily and usually dulls quicker – meaning it tends to have a rougher finish than glass.
Ordering memorial jewellery can be an emotional experience as it usually purchased during a tough time in your life. There are man different options available, with resin set jewellery often being the cheaper option. However, the quality of resin jewellery is not as high as glass set jewellery – meaning you are likely to have to buy another item after a while or simply be forced to not wear it.
At Together Always we believe all of our customers deserve the highest possible quality for an affordable price. Although glass jewellery tends to be more expensive than resin, we ensure our customers benefit from the better quality it provides while keeping our prices as low as possible.
See some of our prices below:
Choosing the more durable and higher quality glass jewellery means you will be getting a longer lasting item of jewellery that encapsulates your loved one's ashes to keep with you always.
To find out more, read our guide: 17 things you need to know about our ashes jewellery or request a free order pack below:
All of the ashes jewellery items we make here at Together Always feature a glass setting to clearly display the ashes at all times. We see a lot […]