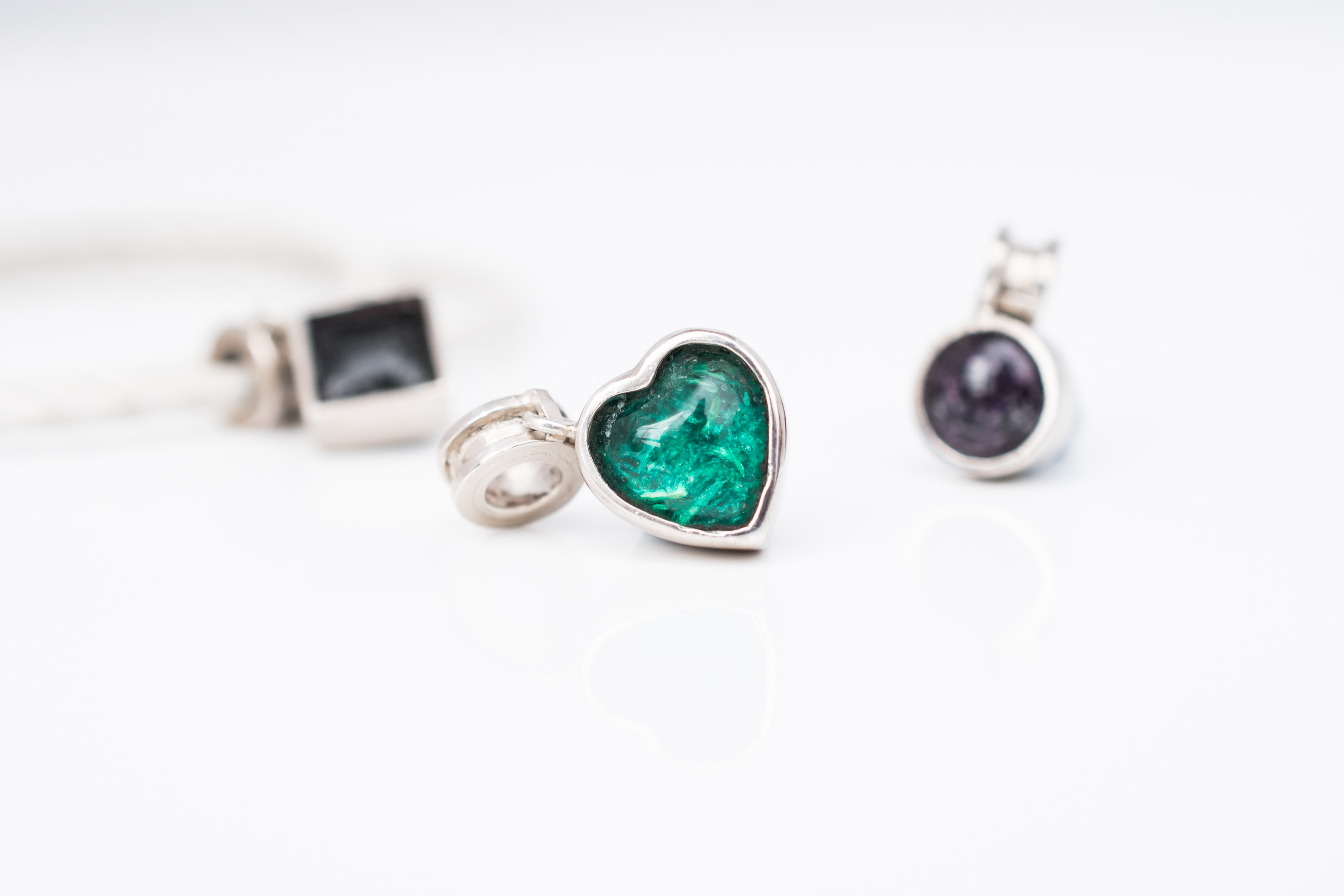 Our jewellery for cremation ashes is a great way to keep the memory of your loved one alive. The ashes are contained in a glass setting that clearly displays the ashes at all times, so you can feel close to your loved one at all times.
If you have recently lost someone special, it can be difficult to come to terms with your loss. Thinking about what you could do with the ashes may not be something you want to consider for months or even years.
If you do feel ready, then ashes jewellery is a great way to always feel close to your loved one again. You can wear a ring, pendant, charm or ear-rings that encapsulate and clearly show your loved ones ashes in the setting.
We find our unique, handmade ashes jewellery items bring a lot of comfort to our customers – who are able to take their beautiful jewellery with them wherever they go.
If you are starting to think about using some cremation ashes for jewellery, with listed everything you need to know below. If you have any questions, please don't hesitate to get in touch with us or request your FREE order pack now to find out more about all of our products.
How much it costs to turn ashes into jewellery
As all of our jewellery is handmade in-house by our experienced jeweller, we are able to keep the costs of our high-quality jewellery down. This means the price of our ashes rings start at just £145 for a silver ring.
As the price of gold is more than silver, our gold rings start from just £285.
If you are looking for a beautiful pendant to house and display your loved ones ashes, our pendants start from just £125 for silver, and just £220 for gold.
Our ashes charms cost between £95-£230, and our ear-rings between £100 - £200.
Take a look at our products now, or request a free order pack below:
We only need a teaspoon of ashes
Many of our customers are surprised when we tell them we only require a very small amount of ashes for the jewellery.
Each jewellery item we make only needs around a teaspoonful of ashes – and our order packs come with a spoon and pouch for you to easily and securely send the ashes to us.
A lot of people are put off from ashes jewellery as they understandably do not want to part with too much of their loved ones ashes.  However, we only need a very small amount to make our jewellery and we will return any unused ashes back to you.
Our jewellery is always sent by Royal Mail Special Delivery
We know how important your loved one's ashes are to you and your family, so we always take extra care when handling them.
When we have made your ashes jewellery, we will send it to you via Royal Mail Special Delivery to make sure it gets to you safe and sound.
It takes us around four weeks to make and send your jewellery
After receiving your order and ashes, it takes us approximately four weeks to create your jewellery items and post them back to you.
As we make all the jewellery in-house, we are in full control of the process and do not have to rely on third parties. All of our jewellery features glass settings, which take a little longer to make than the cheaper resin-based jewellery – but we feel the extra quality is well worth the wait.
Each item comes with a numbered certificate of authenticity which is completely individual to you and your jewellery.
You can combine different ashes and hair into the jewellery
If you want to combine the ashes of two or more loved ones into a piece of jewellery, or ashes and hair or just hair, it is very easy to do so and we do not charge extra for this.
This can be a great way to remember and honour your parents, or grandparents, for instance.
Also, if there are no ashes available then using hair in the setting can have a beautiful and unique effect.
We can also make jewellery with pet ashes
It is very common for our customers to order jewellery that encapsulates and displays the ashes of their pet.
There is no difference to the process – just send in your order pack with a teaspoon of your pet's ashes.
We have had many comments and reviews from customers who find it a real comfort to have their beloved pet so close to them.
You can choose from nine different setting colours
For all of our jewellery items, you can choose from nine different colours for the setting: Amber, Amethyst, Baby Blue, Baby Pink, Diamond (clear), Emerald, Obsidian, Ruby and Sapphire.
Each final item can vary slightly due to the difference in ashes – which makes each item completely unique.
If you have any further questions, please don't hesitate to get in touch using our Live Chat function or on our Contact page. We have also listed our FAQs below if you require any further information.
You can order and pay for your jewellery item(s) directly on this website.
By choosing the item(s) you would like to purchase, selecting the colour for your setting and the material. Then simply add it to your basket and go through the online checkout process.
How do I send the ashes to you?
Upon receipt of your order and online payment, we will post an information pack to you which includes a special sealable ashes pouch and a secure prepaid and addressed envelope so you can send your loved one's ashes to us with ease.
Can I receive an information pack before deciding to order?
Of course, simply fill out the form here and we will forward your free information pack.
The pack features a full brochure and order form, so you can place your order by post and pay either when you send us the order back via a cheque, or when your ashes arrive with us via a phone payment.
There are many ways you can pay for your item(s).
Cheque - sent with the information/order pack we send to you to for sending the ashes to us.
Online - on our website after selecting your chosen item(s) and adding them to your basket
Phone - we can take payments over the phone, simply call 0116 267 7148
Bank transfer
PayPal
What if I don't know my ring size?
Don't worry, you can still place an order. The information pack includes a ring sizer so you can confirm what size you want your ring(s) in when you send in the ashes.
Can you send my order to a different address?
Of course, simply state your required delivery address during the order process – or contact us on [email protected] or call on 0116 267 7148 if you require a change of delivery address after the order has been placed.
Do you provide a certificate of authenticity with every order?
We send all jewellery back with a Certificate of Authenticity with the completed pieces of jewellery with the order with your loved ones name on it as long as the name is provided to us on our order form.
Can I pay over the phone?
Of course, we can take all the relevant information and process your payment.
Do the ashes effect the colour of the setting?
The ashes can alter the colour of the setting slightly.
For example, if the ashes are light in colour (white/sandy colour) they can make the colour of the setting brighter. If the ashes are darker in colour they can make the colour of the setting slightly darker.
However, after doing memorial jewellery since 2013 we have worked out the best colour system for our jewellery.
Do the pendants come with chains?
All of our pendants come with a standard 18-inch chain, although other sizes can be issued when discussed with your order.
All of the ashes jewellery items we make here at Together Always feature a glass setting to clearly display the ashes at all times. We see a lot […]