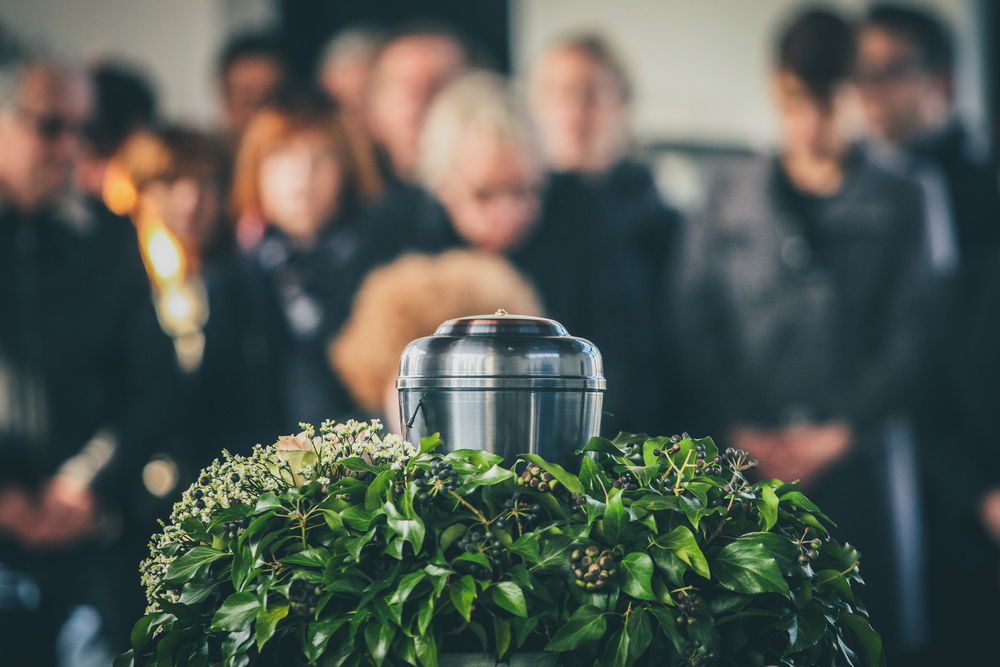 If you are looking for the perfect verse or poem to read at a funeral, hopefully our collection of funeral poems below will help.
As well as popular poems, we have listed poems suitable for reading at a parents, grandparents, sibling or friends funeral.
If there's any other great poems that we have missed out, please feel free to share them in the comments and we will add them to our list.
See our unique range of ashes jewellery made to display cremation ashes in the setting.
For those looking for inspiration for the perfect poem to read at a funeral, the below poems are great choices for all circumstances.
Do Not Stand at My Grave and Weep
Written in the 1930s by Mary Elizabeth Frye, this uplifting poem declares that your loved ones are not gone as they are always with you after death.
Do Not Stand at My Grave and Weep
Do not stand at my grave and weep,
I am not there, I do not sleep.
I am a thousand winds that blow.
I am the diamond glint on snow.
I am the sunlight on ripened grain.
I am the gentle autumn rain.
When you wake in the morning hush,
I am the swift, uplifting rush
Of quiet birds in circling flight.
I am the soft starlight at night.
Do not stand at my grave and weep.
I am not there, I do not sleep.
(Do not stand at my grave and cry.
I am not there, I did not die!)
This popular funeral poem is based on a verse by David Harkins and is focused on being grateful for a loved one's life.
She Is Gone / He Is Gone
You can shed tears that she is gone
Or you can smile because she has lived
You can close your eyes and pray that she will come back
Or you can open your eyes and see all that she has left
Your heart can be empty because you can't see her
Or you can be full of the love that you shared
You can turn your back on tomorrow and live yesterday
Or you can be happy for tomorrow because of yesterday
You can remember her and only that she is gone
Or you can cherish her memory and let it live on
You can cry and close your mind, be empty and turn your back
Or you can do what she would want: smile, open your eyes, love and go on.
To Those Whom I Love & Those Who Love Me
This lovely remembrance poem is written from the perspective of a loved one being laid to rest, and acknowledges the need to say goodbye.
To Those Whom I Love & Those Who Love Me
When I am gone, release me, let me go. 
I have so many things to see and do, 
You mustn't tie yourself to me with too many tears, 
But be thankful we had so many good years.
I gave you my love, and you can only guess 
How much you've given me in happiness. 
I thank you for the love that you have shown, 
But now it is time I traveled on alone.
So grieve for me a while, if grieve you must, 
Then let your grief be comforted by trust. 
It is only for a while that we must part, 
So treasure the memories within your heart.
I won't be far away for life goes on. 
And if you need me, call and I will come.
Though you can't see or touch me, I will be near. 
And if you listen with your heart, you'll hear, 
All my love around you soft and clear.
And then, when you come this way alone, 
I'll greet you with a smile and a 'Welcome Home'.
This beautiful funeral verse by writer and musician Rabindranath Tagore gives thanks to a life well lived.
Farewell My Friends
Farewell My Friends
It was beautiful
As long as it lasted
The journey of my life.
I have no regrets
Whatsoever said
The pain I'll leave behind.
Those dear hearts
Who love and care...
And the strings pulling
At the heart and soul...
The strong arms
That held me up
When my own strength
Let me down.
At the turning of my life
I came across
Good friends,
Friends who stood by me
Even when time raced me by.
Farewell, farewell My friends
I smile and
Bid you goodbye.
No, shed no tears
For I need them not
All I need is your smile.
If you feel sad
Do think of me
For that's what I'll like
When you live in the hearts
Of those you love
Remember then
You never die.
Many of the best funeral poems celebrate life and find hope, and none more so than Victorian poet Christina Rossetti's short verse Let Me Go.
Let Me Go
When I come to the end of the road
And the sun has set for me
I want no rites in a gloom filled room
Why cry for a soul set free?
Miss me a little, but not for long
And not with your head bowed low
Remember the love that once we shared
Miss me, but let me go.
For this is a journey we all must take
And each must go alone.
It's all part of the master plan
A step on the road to home.
When you are lonely and sick at heart
Go to the friends we know.
Laugh at all the things we used to do
Miss me, but let me go.
All Is Well is a comforting memorial verse about love living on after death.
All Is Well
Death is nothing at all,
I have only slipped into the next room
I am I and you are you
Whatever we were to each other, that we are still.
Call me by my old familiar name,
Speak to me in the easy way which you always used
Put no difference in your tone,
Wear no forced air of solemnity or sorrow
Laugh as we always laughed at the little jokes we enjoyed together.
Play, smile, think of me, pray for me.
Let my name be ever the household word that it always was,
Let it be spoken without effect, without the trace of shadow on it.
Life means all that it ever meant.
It is the same as it ever was, there is unbroken continuity.
Why should I be out of mind because I am out of sight?
I am waiting for you, for an interval, somewhere very near,
Just around the corner.
All is well.
Afterglow is a short but poignant funeral poem about how happy memories can live on after the death of a loved one.
Afterglow
I'd like the memory of me to be a happy one.
I'd like to leave an afterglow of smiles when life is done.
I'd like to leave an echo whispering softly down the ways,
Of happy times and laughing times and bright and sunny days.
I'd like the tears of those who grieve, to dry before the sun;
Of happy memories that I leave when life is done.
This beautiful poem by Ellen Brenneman has a spiritual feel to it, but is suitable as a reading for any type of funeral.
My Journey's Just Begun
Don't think of me as gone away
My journey's just begun
Life holds so many facets
This earth is but one
Just think of me as resting
From the sorrows and the tears
In a place of warmth and comfort
Where there are no days and years
Think of how I must be wishing
That you could know today
How nothing but your sadness
Can really go away
And think of me as living
In the hearts of those I touched
For nothing loved is ever lost
And I know I was loved so much
Remember Me - I Will Live Forever
This poem by Robert Test is about remembering someone who has donated their organs after death - so is a fitting tribute to a loved one who is also an organ donor.
Remember Me - I Will Live Forever
The day will come when my body will lie upon a white sheet neatly tucked under four corners of a mattress located in a hospital; busily occupied with the living and the dying. At a certain moment a doctor will determine that my brain has ceased to function and that, for all intents and purposes, my life has stopped.
When that happens, do not attempt to instill artificial life into my body by the use of a machine. And don't call this my deathbed. Let it be called the bed of life, and let my body be taken from it to help others lead fuller lives.
Give my sight to the man who has never seen a sunrise, a baby's face or love in the eyes of a woman.
Give my heart to a person whose own heart has caused nothing but endless days of pain.
Give my blood to the teenager who was pulled from the wreckage of his car, so that he might live to see his grandchildren play.
Give my kidneys to the one who depends on a machine to exist from week to week.
Take my bones, every muscle, every fiber and nerve in my body and find a way to make a crippled child walk.
Explore every corner of my brain.
Take my cells, if necessary, and let them grow so that, someday a speechless boy will shout at the crack of a bat and a deaf girl will hear the sound of rain against her window.
Burn what is left of me and scatter the ashes to the winds to help the flowers grow.
If you must bury something, let it be my faults, my weakness and all prejudice against my fellow man.
Give my sins to the devil. Give my soul to God. If, by chance, you wish to remember me, do it with a kind deed or word to someone who needs you. If you do all I have asked, I will live forever.
This poem by Amelia Josephine Burr is about the importance of making the most of life and being at peace when the end comes - a great sentiment for a funeral reading.
A Song of Living
Because I have loved life, I shall have no sorrow to die.
I have sent up my gladness on wings, to be lost in the blue of the sky.
I have run and leaped with the rain,
I have taken the wind to my breast.
My cheek like a drowsy child
to the face of the earth I have pressed.
Because I have loved life,
I shall have no sorrow to die.
The following memorial poems are all suitable for those who are doing a reading at their father's funeral.
Father by Ella Wheeler Wilcox celebrates kind and loving father's and focuses on the qualities that matter.
Father
He never made a fortune, or a noise
In the world where men are seeking after fame;
But he had a healthy brood of girls and boys
Who loved the very ground on which he trod.
They thought him just little short of God;
Oh you should have heard the way they said his name –
'Father.'
There seemed to be a loving little prayer
In their voices, even when they called him 'Dad.'
Though the man was never heard of anywhere,
As a hero, yet somehow understood
He was doing well his part and making good;
And you knew it, by the way his children had
Of saying 'Father.'
He gave them neither eminence nor wealth,
But he gave them blood untainted with a vice,
And opulence of undiluted health.
He was honest, and unpurchable and kind;
He was clean in heart, and body, and in mind.
So he made them heirs to riches without price –
This father.
He never preached or scolded; and the rod –
Well, he used it as a turning pole in play.
But he showed the tender sympathy of God.
To his children in their troubles, and their joys.
He was always chum and comrade with his boys,
And his daughters – oh, you ought to hear them say
'Father.'
Now I think of all achievements 'tis the least
To perpetuate the species; it is done
By the insect and the serpent, and the beast.
But the man who keeps his body, and his thought,
Worth bestowing on an offspring love-begot,
Then the highest earthly glory he was won,
When in pride a grown-up daughter or a son
Says 'That's Father.'
This poem is very personal to the writer - Anita Guindon - but can be adapted or used for inspiration for your own personal poem.
My Father
He was a jolly little man full of fun and laughter,
He played jokes on his fellow men
And to him it did not matter.
Education he had not,
But what he learned he never forgot.
He wrote what he knew all about cancer
so that someday, there will be an answer.
He joined the Canadian Medical Corps.
And served in the Second World War.
He risked his life, to save others,
This man, that I call my Father.
Seein' my Father in me is the title of a song
Which I can relate to as I do see my Father in me.
I have a French accent just like my Father,
I love walking, just like my Father,
I love being with people, just like my father.
But most of all, is my love for children, like my Father.
This is a very simple poem by an unknown author that perfectly captures how irreplaceable a father is, and that he is forever loved.
Dad
We'll always remember
that special smile,
that caring heart,
that warm embrace,
you always gave us.
You being there
for Mom and us,
through good and bad times,
no matter what.
We'll always remember
you Dad because
they'll never be another one
to replace you in our hearts,
and the love we will always
have for you.
Comparing her father to a giant tree that has fallen, Georgia Harkness conjures up magical imagery of her dependable and reliable father.
To My Father
A giant pine, magnificent and old
Stood staunch against the sky and all around
Shed beauty, grace and power.
Within its fold birds safely reared their young.
The velvet ground beneath was gentle,
and the cooling shade gave cheer to passers by.
Its towering arms a landmark stood, erect and unafraid,
As if to say, "Fear naught from life's alarms".
It fell one day.
Where it had dauntless stood was loneliness and void.
But men who passed paid tribute – and said,
"To know this life was good,
It left it's mark on me. Its work stands fast".
And so it lives. Such life no bonds can hold –
This giant pine, magnificent and old.
by Joanna Fuchs
You may have thought I didn't see,
Or that I hadn't heard,
Life lessons that you taught to me,
But I got every word.
Perhaps you thought I missed it all,
And that we'd grow apart,
But Dad, I picked up everything,
It's written on my heart.
Without you, Dad, I wouldn't be
The (woman)(man) I am today;
You built a strong foundation
No one can take away.
I've grown up with your values,
And I'm very glad I did;
So here's to you, dear father,
From your forever grateful kid.
by Rebecca D. Cook
He wasn't a hero,
Known by the world.
But a hero he was,
To his little girl.
My daddy was God,
Who knew all things.
And better than Santa,
With the gifts he'd bring.
I knew his voice,
Before I could speak.
And loved it when,
He would sing me to sleep.
He changed my diapers,
And sat up all night.
When my body was weak
And I'd put up a fight.
He'd come home late,
With not much to say.
And made us all kneel,
As he taught me to pray.
He taught me life's lessons,
Of right from wrong.
And instilled in me values,
That I might be strong.
And so through the years,
Like a hero he stood.
Working to give,
All that he could.
His presence was important,
And we loved to see him smile.
For no one in the world,
Could emulate his style.
And so dear Dad,
My best memory to recall.
Is the gift of your presence,
The greatest gift of all.
Strong to the very end
He was my best friend
Always ready to help me
He fiercely loved his family.
He stood tall and sure
He helped me mature
His strength and his love for me
Will remain a part of his legacy.
For a Dad Who Was Always There
Though the world is confusing and full of pain
Dad, Father, Daddy.
Despite the harsh sun and the torrential rain
Dad, Father, Daddy.
I'm hurt. I'm scared. I'm tired
Dad, Father, Daddy.
When others leave me uninspired
Dad, Father, Daddy.
There's only been one on who I could count
Dad, Father, Daddy.
Your role, to me, was paramount.
Dad, Father, Daddy.
These remembrance poems and verses are ideal if you are doing a reading at your mother's funeral.
This poem by Dolores M. Garcia is very popular for readings, as the lyrics centre on the unique love we hold for our mother.
If Roses Grow in Heaven
If roses grow in heaven,
Lord please pick a bunch for me,
Place them in my Mother's arms
and tell her they're from me.
Tell her I love her and miss her,
and when she turns to smile,
place a kiss upon her cheek
and hold her for awhile.
Because remembering her is easy,
I do it every day,
but there's an ache within my heart
that will never go away.
A great verse for those whose mums were angels.
I Never Saw Your Wings
How is it that I never saw your wings
when you were here with me?
When you closed your eyes and soared
to the Heavens I could hear the
faint flutter of you wings as you left.
Your body no longer on this side
your spirit here eternally I see your halo shine.
I close my eyes and see the multi-colored wings
surround me in my saddest moments and my happiest times.
Mother my angel God has given you your assignment
always my mother forever my angel.
You fly into my dreams and when I am asleep
I feel your wings brush against my face wiping away
the tears I shed since I can no longer hold
you in my arms but in my heart.
You earned those wings dear mother
and you will always be me angel eternal.
We only get one mum, and they are all special and unique. This short poem perfectly captures that sentiment.
Only One Mother
Hundreds of stars in the pretty sky,
Hundreds of shells on the shore together,
Hundreds of birds that go singing by,
Hundreds of birds in the sunny weather.
Hundreds of dewdrops to greet the dawn,
Hundreds of bees in the purple clover,
Hundreds of butterflies on the lawn,
But only one mother the wide world over.
If There are Any Heavens My Mother Will
This poem was written by the celebrated poet E E Cummings.
If There are Any Heavens My Mother Will
If there are any heavens my mother will (all by herself) have one.
It will not be a pansy heaven nor
a fragile heaven of lilies-of-the-valley but
it will be a heaven of black red roses my father will be
(deep like a rose tall like a rose)
standing near my (swaying over her silent) with eyes which are really petals and see
nothing with the face of a poet really which
is a flower and not a face with hands which whisper
This is my beloved my
(suddenly in sunlight he will bow,
and the whole garden will bow)
This lovely verse features vivid imagery of a passed mother at rest.
Child and Mother
O mother-my-love, if you'll give me your hand,
And go where I ask you to wander,
I will lead you away to a beautiful land,–
The Dreamland that's waiting out yonder.
We'll walk in a sweet posie-garden out there,
Where moonlight and starlight are streaming,
And the flowers and the birds are filling the air
With the fragrance and music of dreaming.
There'll be no little tired-out boy to undress,
No questions or cares to perplex you,
There'll be no little bruises or bumps to caress,
Nor patching of stockings to vex you;
For I'll rock you away on a silver-dew stream
And sing you asleep when you're weary,
And no one shall know of our beautiful dream
But you and your own little dearie.
And when I am tired I'll nestle my head
In the bosom that's soothed me so often,
And the wide-awake stars shall sing, in my stead,
A song which our dreaming shall soften.
So, Mother-my-Love, let me take your dear hand,
And away through the starlight we'll wander,–
Away through the mist to the beautiful land,–
The Dreamland that's waiting out yonder.
Mother to Son
By Langston Hughes
Well, son, I'll tell you:
Life for me ain't been no crystal stair.
It's had tacks in it,
And splinters,
And boards torn up,
And places with no carpet on the floor
Bare.
But all the time
I'se been a-climbin' on,
And reachin' landin's,
And turnin' corners,
And sometimes goin' in the dark
Where there ain't been no light.
So, boy, don't you turn back.
Don't you set down on the steps.
'Cause you finds it's kinder hard.
Don't you fall now
For I'se still goin', honey,
I'se still climbin',
And life for me ain't been no crystal stair.
The renowned Irish writer Patrick Kavanagh wrote this poem about his own mother. It is a great poem to read at a funeral if your mother lived in, or loved, the countryside.
In Memory of My Mother
I do not think of you lying in the wet clay
Of a Monaghan graveyard; I see
You walking down a lane among the poplars
On your way to the station, or happily
Going to second Mass on a summer Sunday–
You meet me and you say:
'Don't forget to see about the cattle–'
Among your earthiest words the angels stray.
And I think of you walking along a headland
Of green oats in June,
So full of repose, so rich with life–
And I see us meeting at the end of a town
On a fair day by accident, after
The bargains are all made and we can walk
Together through the shops and stalls and markets
Free in the oriental streets of thought.
O you are not lying in the wet clay,
For it is harvest evening now and we
Are piling up the ricks against the moonlight
And you smile up at us — eternally.
The great Rudyard Kipling composed this poem about his own mother, and it is full of the raw emotion of losing a mum.
Mother o' Mine
If I were hanged on the highest hill,
Mother o' mine, O mother o' mine!
I know whose love would follow me still,
Mother o' mine, O mother o' mine!
If I were drowned in the deepest sea,
Mother o' mine, O mother o' mine!
I know whose tears would come down to me,
Mother o' mine, O mother o' mine!
If I were damned of body and soul,
I know whose prayers would make me whole,
Mother o' mine, O mother o' mine!
This simple and short funeral poem by Patrick O'Reilly celebrates how lucky we feel having the best mum in the world.
Wonderful Mother
God made a wonderful mother,
A mother who never grows old;
He made her smile of the sunshine.
And He moulded her heart of pure gold;
In her eyes He placed bright shining stars,
In her cheeks fair roses you see;
God made a wonderful mother,
And He gave that dear mother to me.
Funeral poems for grandparents
The following memorial poems are ideal if you are doing a reading at a grandmother or grandfather's funeral.
As We Look Back Over Time
As We Look Back Over Time
As we look back over time
We find ourselves wondering …..
Did we remember to thank you enough
For all you have done for us?
For all the times you were by our sides
To help and support us …..
To celebrate our successes
To understand our problems
And accept our defeats?
Or for teaching us by your example,
The value of hard work, good judgment,
Courage and integrity?
We wonder if we ever thanked you
For the sacrifices you made.
To let us have the very best?
And for the simple things
Like laughter, smiles and times we shared?
If we have forgotten to show our
Gratitude enough for all the things you did,
We're thanking you now.
And we are hoping you knew all along,
How much you meant to us.
God Saw You Getting Tired
God Saw You Getting Tired
God saw you getting tired
and a cure was not to be
so he put his arms around you
and whispered,
Come to Me.
With tearful eyes we watch you
and saw you pass away
and although we loved you dearly
we could not make you stay.
A Golden heart stopped beating
hard working hands at rest.
God broke our hearts to prove us
he only takes the best
I Heard Your Voice in the Wind Today
I Heard Your Voice in the Wind Today
I heard your voice in the wind today
and I turned to see your face;
The warmth of the wind caressed me
as I stood silently in place.
I felt your touch in the sun today
as its warmth filled the sky;
I closed my eyes for your embrace
and my spirit soared high.
I saw your eyes in the window pane
as I watched the falling rain;
It seemed as each raindrop fell
it quietly said your name.
I held you close in my heart today
it made me feel complete;
You may have died…but you are not gone
you will always be a part of me.
As long as the sun shines…
the wind blows…
the rain falls…
You will live on inside of me forever
for that is all my heart knows.
She's in the Sun, the Wind, the Rain
She's in the Sun, the Wind, the Rain
She's in the sun, the wind, the rain,
she's in the air you breathe
with every breath you take.
She sings a song of hope and cheer,
there's no more pain, no more fear.
You'll see her in the clouds above,
hear her whisper words of love,
you'll be together before long,
until then, listen for her song.
She Is Gone
You can shed tears that she is gone
or you can smile because she has lived.
You can close your eyes and pray that she'll come back
or you can open your eyes and see all she's left.
Your heart can be empty because you can't see her
or you can be full of the love you shared.
You can turn your back on tomorrow and live yesterday
or you can be happy for tomorrow because of yesterday.
You can remember her and only that she's gone
or you can cherish her memory and let it live on.
You can cry and close your mind, be empty and turn your back
or you can do what she'd want: smile, open your eyes, love and go on.
Nanny
Such wonderful memories of Nanny
The Nanny we all used to know
We kept you too long and there waiting
The angels have said you can go
Bright golden gates that are shining
Full of family to bid you hello
So blow us a kiss as you're leaving
Our sadness we'll try not to show
Such wonderful memories of Nanny
We all have our favourites you see
As you enter those gates you'll be thinking
They're all there thinking of me!
A Wonderful Grandmother
We had a wonderful grandmother,
One who never really grew old;
Her smile was made of sunshine,
And her heart was solid gold;
Her eyes were as bright as shining stars,
And in her cheeks fair roses you see.
We had a wonderful grandmother,
And that's the way it will always be.
But take heed, because
She's still keeping an eye on all of us,
So let's make sure
She will like what she sees.
My Grandmother
In my Rose Garden of memories
I see you standing there
An angel in disguise
Who taught me how to care
I long to hear your voice
for real not in my dreams
I am missing you so much these days
how empty my world seems
People say time heals all wounds
that someday the pain will subside
But Grandma I can tell you
I think they must have lied
The emptiness I am feeling now
is strong and I am weak
These days go by without you
so dreary and so bleak
In my Rose Garden of memories
I know you'll always be
for though you're gone
from this mortal world
In my heart you'll always be
Away
I cannot say and I will not say
That he is dead, he is just away.
With a cheery smile and a wave of hand
He has wandered into an unknown land;
And left us dreaming how very fair
Its needs must be, since he lingers there.
And you-oh you, who the wildest yearn
From the old-time step and the glad return –
Think of his faring on, as dear
In the love of there, as the love of here
Think of him still the same way, I say;
He is not dead, he is just away.
Grandad
Grandad,
We know you can no longer stay with us,
you fought long and hard to be with us.
We know you now watch over and protect us.
Although we cannot hear your voice or see your smiling face,
We know deep down in our hearts that you have not left us.
Grandfather Kept a Garden
Grandfather Kept a Garden
Our Grandfather kept a garden,
A garden of the heart;
He planted all the good things,
That gave our lives their start.
He turned us to the sunshine,
And encouraged us to dream:
Fostering and nurturing the seeds of self-esteem.
And then the winds and rain came,
He protected us enough;
But not too much because he knew
We would stand up strong and tough.
His constant good example,
Always taught us right from wrong;
Markers for our pathway that will last
a lifetime long.
We are our Grandfather's garden,
We are his legacy.
Thank you Grandfather, we love you.
Funeral poems for a brother
If you are doing a reading for a brother that has passed away, the following funeral poems are ideal for capturing that special bond between siblings.
Love Lives On
You went away so suddenly
We did not say goodbye
But brothers can never be parted
Precious memories never die.
In My Mind
Somewhere in my dreams tonight
I'll see you standing there
You look at me with a smile
"Life isn't always fair"
You say you were chosen for his garden
His preciously hand picked bouquet
"God really needed me,
That's why I couldn't stay"
It's said to be that angels
Are sent from above
I've always had my angel
My brother – whose heart was filled with love
Wherever the ocean meets the sky
There will be memories of you and I
When I look up at the sky so blue
All I see are visions of you
"While there's a heart in me, you'll be a part of me."
Miss Me But Let Me Go
When I come to the end of the road
And the sun has set for me,
I want no rites in a gloom-filled room,
Why cry for a soul set free!
Miss me a little – but not for long
And not with your head bowed low.
Remember the love that we once shared,
Miss me, but let me go.
For this journey that we all must take
And each must go alone;
It's all a part of the Master's plan
A step on the road to home.
When you are lonely and sick at heart
Go to the friends we know,
And bury your sorrows in doing good deeds.
Miss me, but let me go.
His Peaceful Grave
Our brother lives with us in memory
Before our eyes he grew weaker every day
Doing all we could to save him
Until God took him away
Never shall his memory fade
Our sweetest love lingers
Forever round his peaceful grave.
Dear Brother Your Memory Will Never Fade
Dear Brother Your Memory Will Never Fade
My dear Brother now that you are gone
You're no longer here to share
The bond we had together –
A bond of love and care.
Yet, somehow something tells me
You are watching over me –
Now that from Worldly cares
You finally are free.
I miss you so very much,
And my tears I cannot hide
Yet, within my heart, I feel
You are always by my side.
Ever since you went away
Life has never been the same
Yet, it comforts me to know
That one day we'll meet again.
Miss You Brother
Your actions were always kind
A generous hand and an active mind
Anxious to please and loath to offend
A loving brother and faithful friend
We'll all miss you very much
I Miss
I miss you,
I miss the loud music coming
from your room,
I miss the warmth of knowing
You're just a call away,
I miss the way we fought and
played,
I miss seeing your big bright
smile,
I miss getting kicked out of
your room,
I miss seeing you here and
there,
I miss cooking you breakfast
lunch and dinner,
I miss hearing you come in
at night,
I miss making you wear your
seat belt,
I miss holding your hand to
pray,
I miss your smell,
I miss you with all my might,
I miss the way we would fight,
I miss my brother,
I miss my friend,
I miss you, I love you and that's
THE END!
My Beloved Brother
From day one all we did was fight,
now all I do is fight back my tears.
I wanted to do everything you did,
because I wanted to be just like you.
Now I sit here wondering what to do,
because there's no one to replace you.
I never did tell you all the things I felt,
like how much I really did love you.
I wish we could go back and start over again.
I don't want to be alone. I need my brother,
I need my best friend.
When you think of me
while your up in heaven,
Think of how much you meant to me.
Its sad that you left
without saying goodbye,
But just remember we all love you
as you began to fly.
You did so much for me,
as I didn't do much for you.
I hope you will forgive me,
for all the things I didn't do
You were my brother
and my best friend.
I will always love you
no matter how long its been,
since your life came to an end.
Funeral poems for a sister
The following poems are suitable if you are doing a reading at a sisters funeral.
The Importance of a Sister
The Importance of a Sister
A sister is someone who loves you from the heart,
No matter how much you argue you cannot be drawn apart.
She is a joy that cannot be taken away,
Once she enters your life, she is there to stay.
A friend who helps you through difficult times,
Her comforting words are worth much more than dimes.
A partner who fills your life with laughs and smile,
These memories last for miles and miles.
When she is by your side, the world is filled with life,
When she is not around, your days are full of strife.
A sister is a blessing, who fills your heart with love,
She flies with you in life with the beauty of a dove.
A companion to whom you can express your feelings,
She doesn't let you get bored at family dealings.
Whether you are having your ups or downs,
She always helps you with a smile and never frowns.
With a sister you cannot have a grudge,
She is as sweet as chocolate and as smooth as fudge.
Having a sister is not just a trend,
It is knowing you can always turn to her, your best friend.
To My Sister…
I'm blessed to call you sister,
I also call you friend;
You've loved me unconditionally,
And stood through thick and thin.
You've shared my joys and sorrows,
My laughter and my tears.
You've been my inspiration,
As we grew up through the years.
When we were little children
We laughed and played together;
Then growing up you stood by me,
Through good and stormy weather.
There's something God has given us,
That's more than family;
He's placed a love for you, my Sister,
Deep down in the heart of me.
Lose You
Never thought I'd lose you,
But here I am,
Standing alone,
Without you by my side,
We're sisters for life,
We promised,
But now you're gone,
I don't know what to do,
Without you,
I'm going crazy,
I'm trying to hold on,
To keep strong,
But it just doesn't feel right,
I'm waiting here,
My arms wide open,
Tears running down my face,
Ready for your return,
Even if it takes forever,
My sister…
Sleep, My Sister
I wish you sweet sleep, my sister dear.
Although there's so much that you've left bare
I hate that you had to endure such pain
On my mind, your saddened eyes have left a stain.
I want to know what crossed your mind
Unspoken words you've left behind
Undone things we'll never do
No sharing thoughts you never knew.
A peace has fallen upon your head
A taste of sorrow we have been fed
It really is like a hole in our lives
One swiftly dug but carved out by knives.
But I have hope that those sleeping will rise
The Bible says that God will open their eyes.
No suffering, sickness, yes not even pain,
Those who did good, eternal life they'll gain.
So… sleep on my sister, sleep tight
For now with you the sky is night.
But after night will come daybreak
Therefore I will wait hoping to see you awake.
Sister and Best Friend
The moment I realized,
my sister just died.
My hands cradled my face,
and I frantically cried.
Why did this happen,
and how could this be.
She had so much to live for,
we could all clearly see.
My heart simply dropped,
and felt a sharp pain.
My tears fell instantly,
Like a severe August rain.
I was truly lucky,
to have a sister like her.
Countless others,
nod and concur.
I will miss our talks,
and her comforting voice.
And those random moments,
where we'd mutually rejoice.
Rest in peace,
Sister and best friend,
My deepest love,
to the sky I shall send.
Dear Sister in Heaven
I sit here and ponder how very much
I'd like to talk with you today,
there are so many things
that we didn't get to say.
I know how much you care for me,
and how much I care for you,
and each time I think of you,
I know you'll miss me too.
An angel came and took you by the hand, and said
your place was ready in heaven, far above…
and you had to leave behind, all those you dearly loved.
You had so much to live for, you had so much to do…
It still seems impossible that God was taking you.
And though your life on earth is past, in Heaven it starts anew.
You'll live for all eternity, just as God has promised you.
And though you've walked through Heaven's gate,
we're never far apart,
for every time I think of you
you're right here, deep within my heart.
Caring for your jewellery is important and you may be unsure how to keep it looking as clean as polished as it was the day you bought it. […]