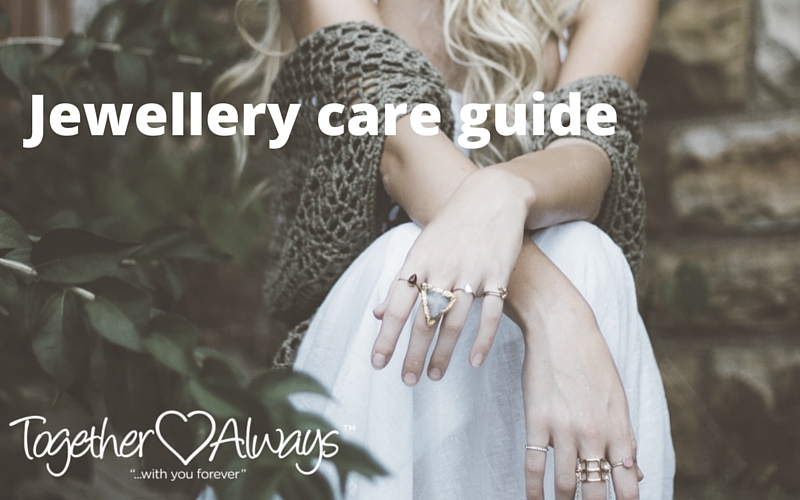 Caring for your jewellery is important and you may be unsure how to keep it looking as clean as polished as it was the day you bought it.
This guide aims to tell you everything you need to know about looking after your jewellery – whether it be an expensive engagement ring, a sentimental necklace, or simply your favourite pair of earrings.
You should note that most jewellery will become worn over time, however it can often be re-plated, repaired or polished to have it looking their best once more. So don't panic if you haven't been actively taking any steps to look after your jewellery before now.
However, it's never too late to start…
General tips for looking after your jewellery
You should aim to keep all of your metals and gemstones away from domestic cleaning products to avoid them getting damaged. When using these kind of products, it's a good idea to wear gloves or take your jewellery off beforehand.
Where possible, try to avoid your jewellery coming into contact with things like perfume and hairspray as this can tarnish its appearance.
You should remove your jewellery before bathing or showering as soap can cause a film to form over the metal, making it appear dull.
Most metals can sustain surface damage or become tarnished when in contact with chlorinated water. For this reason, you should remove all jewellery before going into a swimming pool. The only exception here is titanium metal, as it has a resistance to chlorine.
If you have them, you should aim to keep your jewellery in the boxes or soft pouches that they came in when you are not wearing them to avoid them getting scratched or tarnished. In addition, they should be stored in a cool, dry place.
Request a FREE brochure now to see our full product range
How to clean jewellery
Below are some more general tips for cleaning your jewellery:
Try not to use tissue paper or paper towels when wiping or polishing items of jewellery as fibres in them can cause scratches to metals.
Don't be tempted to use a household cleaning product on your jewellery as harsh chemicals in them will most probably cause damage to your items. Specific jewellery cleaning fluid can be purchased from most jewellers for you to use at home.
Use warm water rather than red hot or cold water when cleaning any jewellery. Hot water can cause a reaction between cleaning fluids which could lead to discolouration of the metal.
You should never attempt to clean a damaged item of jewellery as it is highly likely that you will cause further damage – sometimes even beyond repair. If you notice any damage to your jewellery, take it to a specialist to have it repaired.
How to look after silver jewellery
These days, silver is an extremely popular metal for jewellery as it is inexpensive.
The best way to keep silver looking its best is an easy one – wear it! Doing this stops the metal oxidising with the air and therefore becoming tarnished.
If silver comes into contact with water, you should dry it quickly to reduce the chances of it staining.
How to look after yellow and rose gold jewellery
Yellow and rose gold items should be kept separately from other items when storing as they can scratch easily. Jewellery boxes or soft jewellery pouches are the best things to keep these items in.
You should avoid your yellow or rose gold jewellery coming into contact with soap, as it can give it a dull appearance. However, if this does happen, gently polishing it with a specialised jewellery spray and a soft cloth with have it shining in no time.
How to look after white gold jewellery
The majority of white gold jewellery is enhanced with rhodium plating, which gives the items a highly reflective white surface. However, because of this, over time this surface will more than likely lose some or all of its brightness. It most commonly happen with rings and bracelets which come into contact with hard items when they are worn.
If your white gold jewellery does lose its shine and become dull, then you can easily get it re-plated to have it looking back to its best.
How to look after platinum jewellery
When wearing platinum jewellery, it is best to avoid activities where it can come into contact with hard surfaces, such as playing sport or doing certain household chores.
If your platinum jewellery were to sustain a knock or bang and gets marked, this can easily be removed by having the item polished.
Also, over time, platinum creates a natural patina over the surface of an item. Though this doesn't damage the quality of the jewellery, it can leave it looking less than its best. Again, a re-polish of your item will have it looking as good as new.
How to look after polished palladium
Palladium is similar to platinum in that it too develops a natural patina over time. If this is the case for your jewellery, having it re-polished will get your item back to how it was the day you bought it.
Request a FREE brochure now to see our full product range
How to look after stainless steel jewellery
Stainless steel jewellery should be kept separately from other jewellery as it is notably harder and tougher than other materials and therefore can cause damage to other items.
Despite its strength, stainless steel can get damaged so it is recommended that it not be worn during activities such as manual work or sports.
To keep it looking shiny and new, polishing it gently with a soft cloth and a mild detergent usually does the trick. You should also avoid stainless steel coming into contact with water.
How to look after precious gemstones
To keep your precious gemstones looking their best, you can give them a quick clean with a soft cloth. You should avoid using any chemicals when wearing precious gemstones as it could cause the stones to erode and the colour may dull.
Repairing jewellery
From time to time, it may be that your jewellery needs repairing. In these instances, you should take your items to a professional jeweller, rather than attempting to do any repairs yourself.
If you find that a piece of your jewellery needs repairing, to lower the risk of it happening again, you should inspect the item every couple of months to check for any damage. In addition, aim to look after our jewellery as best as you can and always make sure you store it correctly when you are not wearing the item.