10 reasons to choose Together Always ashes jewellery
Below we have listed the top 10 reasons why customers continue to choose Together Always ashes memorial jewellery.
To find out more about our jewellery items, request your FREE order pack now.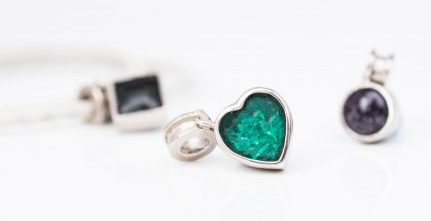 We use glass instead of resin in our jewellery
At Together Always we use glass to encapsulate your loved one's ashes in the jewellery setting, which ensures the highest level of protection for the ashes.
Many jewellery companies use resin in the setting in order to keep costs down, but we prefer putting ashes in glass as it allows our customers to wear their precious memorial jewellery at all times – rather than having to remove them to wash you hands, as you would with a resin-based setting.
Working with glass requires a high level of skill and special equipment, which allows us to perfectly encapsulate your loved one's ashes in a strong, secure and safe setting. Resin, on the other hand, is usually poured into a mould along with your loved one's ashes, giving no control over how the ashes are displayed in the setting.
We strongly believe in using a glass setting as we have high standards for your memorial jewellery and believe such a sentimental item of jewellery should be made with the utmost care and be of the highest possible quality.
With our glass memorial jewellery your loved one can be with you always, without fear of losing colour or being scratched or damaged.
Our jewellery is reasonably priced
We continually work on our pricing to make sure our unique jewellery items are affordable to all. Despite our commitment to using glass settings, we work hard to keep our costs down so anyone can afford such a special, meaningful item of jewellery.
We believe our prices are true to the value of the material used to create such pieces and reflect the high quality and standard of our jewellery.
We make top quality jewellery that is built to last
Quality jewellery is our top priority at Together Always. We pride ourselves on being able to produce beautiful, high quality and precious items.
One of our goals when we created the business was to make a piece of jewellery that can be worn at any time, during any activity – keeping your loved one's ashes close at all times.
Excellent customer service
We constantly receive 5-star reviews from our customers of Facebook and Instagram, which you can see across our site.
We are proud of our reviews and that our customers are happy to recommend our service on Facebook along with many photo reviews showing the items that they have ordered from us admiring their pieces.
Together Always is a family run business, founded by expert jeweller Andy after the loss of his mother and father. Andy is now joined by his wife Vikki, and eldest daughter Shannon.
This close-knit team are on-hand to help with any questions you might have and are always happy to hear from people interested to learn more about our jewellery.
We make all of our jewellery in-house, so we are in control of every aspect of the manufacturing process.
Always creating new handmade designs
At Together Always we are always creating and trialling new designs to hold your loved one's ashes.
Creating the items ourselves allows us to adjust the designs of our jewellery items until we are completely happy with them, allowing a flawless design.
Items are added to the website which may not be found within our brochure; however, this is not an issue as the ordering process is still simple.
We make all of our jewellery in-house, so we are in control of every aspect of the manufacturing process.
Sending even a small amount of your loved one's ashes can feel scary, but here at Together Always we aim to help you feel more comfortable at the prospect.
We take extra care when handling the ashes you send us, and return any unused ashes back to you along with your completed jewellery.
Your ashes never leave our jewellery studio during the creation process, as the whole process takes place on our premises. During the manufacturing process your ashes are marked clearly with your full order details, including your unique order number and your full name, address, phone number and email address.
Excellent after care service
As part of our commitment to excellent customer service, we provide an industry-leading aftercare service which can include everything from resizing your ring to repairing any damage.
If you have any issue with your jewellery, contact us and we will do our best to make any alteration completely free of charge.
Special delivery service to ensure your completed item(s) and ashes are tracked safely back to you
Ensuring your jewellery and ashes get to you safely is important to us. That is why we use the Special Delivery service with the signed for service to send your items back to you, allowing your item(s) to be tracked.
Over 30 year's experience in making jewellery
Andy first started designing and making jewellery whilst watching and working with his father in a small jewellers in Leicester when he came home from school, and in his free time. Andy soon picked up the skills from creating and repairing items for customers. Sadly, after the loss of his mother and father, Andy then started his own jewellery business, Together Always, in 2014.